I just recently received an email from BJ's Wholesale Club about their wedding flower packages….what?! I had no idea that BJ's offered flowers let alone wedding packages. I may have taken advantage of this while I was planning my big day! I decided to visit the site and peruse a little. You can order simple selections of flowers for more than 50% off what you would be paying to a florist! However, this means just flowers and bouquets. You would have to arrange the flowers for centerpieces and provide your own vases. You can get simple vases at places like the Dollar Tree for $1 and weigh them down with stones or glass gems to create elegant and affordable centerpieces. Reviews are pretty good too for the places I researched but you may want to research reviews on your local warehouse stores…not just the chains.
Here are some of the wedding options I found through warehouse clubs! Membership is a must (but you might enjoy having that anyway…who doesn't love 10 gallons of mayo?!) If you use your membership to purchase flowers,bridal party gifts, jewelry…a honeymoon…well you just may be saving in bulk!
All packages include shipping but not taxes:
This 40 Piece Collection of Red and Pink Roses from BJ's retails for $799.99 with free shipping and an arrival time of 2-4 weeks.
You get a lot!:
1 bridal bouquet
1 bridal toss bouquet
1 maid of honor bouquet
4 bridesmaid bouquets
2 mothers' bouquets
1 set of flower girl petals
12 corsages
1 boutonniere for the groom
10 groomsman  boutonnieres
5 centerpieces
There are many collections to choose from in all different price ranges. A package of 100 white roses is $97.99.
This sunflower wedding package from Costco has rave reviews. It is similar to the package offered by BJ's bit less expensive since it is sunflowers not roses. The price includes shipping. It includes the following:
1 Bridal bouquet
1 Maid of Honor bouquet
4 Brides Maid bouquets
1 Toss Away bouquet
2 Mothers petite hand-tie
12 Corsages
12 Attendant boutonnieres
6 Centerpieces (vases not included)
10 Rose Petal buds
Calla Lilies are extremely pricey (especially in the off-season) but this Costco package just might be in your budget for under $400 with shipping and handling included! Again, this package has great reviews:
                          1 Bridal Bouquet:
30 mini Calla Lilies
Satin ribbon
12 pins
 3 Bridesmaid Bouquets:
15 mini calla lilies (each)
14 pins (each)
Satin ribbon
6 Boutonnieres:  
1 Calla Lily (each)
1 blade of Bear Grass (each)
1 pin (each)
Satin ribbon
4 Corsages:  
1 Calla Lily (each)
      1 piece of Eucalypto seeded (seeds only)
2 Pins (each)
Sheer ribbon (choices are moss green, black, white or ivory)
Sam's Club has different package options. There are smaller packages for under $300 for 17 pieces. There are 33 piece collections for $615.00 and 43 piece collections for $896.00. Check out two examples below: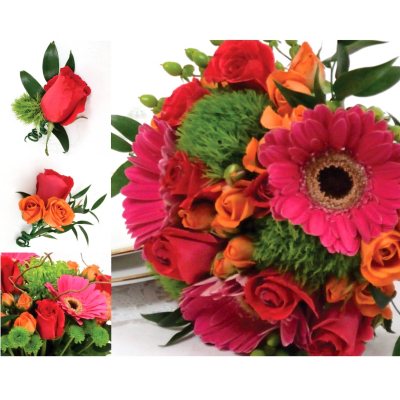 This gerber daisy package includes 17 pieces for $314.00.
Collection Includes:
1 Bridal Bouquet
4 Bridesmaid Bouquets
1 Toss Away Bouquet
6 Boutonnieres
4 Corsages
1 Box of Petals
Clippers
Bridal Bouquet Contains:
3 Hot Pink Gerberas
9 Hot Pink Roses
5 Orange Spray Roses
3 Green Dianthus
3 Green Hypericums
4 Italian Ruscus
Bridesmaid Bouquet Contains:
3 Orange Roses
7 Hot Pink Roses
4 Green Button Poms
4 Green Hypericums
3 Italian Ruscus
Toss Away Bouquet Contains:
5 Hot Pink Roses
2 Green Dianthus
4 Orange Carnations
4 Hot Pink Carnations
4 Green Hypericums
3 Italian Ruscus
There are also several Calla Lily packages (mini Calla Lily) at several different price points. The 33 piece set is $869.00. A larger set is available for just over $1000.00.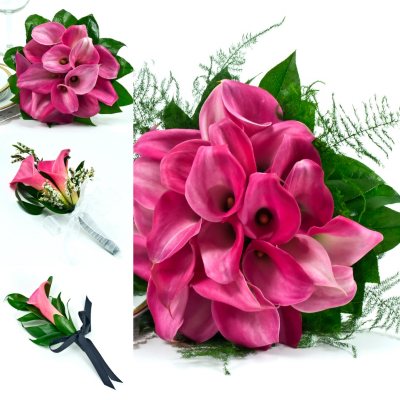 This set includes:
1 Bridal Bouquet
1 Toss Away Bouquet
4 Bridesmaid Bouquets
1 Grooms Boutonniere
9 Boutonnieres
6 Centerpieces
10 Corsages
2 Box of Petals (counts as 1 unit)
1 Clippers
20 Flower food
1 Care instructions
2 White Wedding shipper box
Bridal Bouquet Contains:
30 Pink Mini Calla's
4 Plumosa Fern
7 Salai
Toss Away Bouquet Contains:
12 Pink Mini Calla's
3 Plumosa Fern
3 Salai
Bridesmaid Bouquet Contains:
15 Pink Mini Calla's
5 Salai
Grooms Boutonniere Contains:
1 Pink Calla
1 Italian Ruscus
1 Limonium White
Boutonniere Contains:
1 Pink Calla
1 Italian Ruscus
Corsages
2 Pink Mini Calla's
1 Italian Ruscus
1 Limonium White
Centerpieces Contains:
5 Pink Mini Calla's
9 Pink Roses
4 Pink Lisianthus
Pink Matsumoto
4 Pink Limonium
3 Salai
4 Plumosa Fern
Box of Petals Contains:
7 Medium Pink Rose (take petals off)
Sam's Club doesn't have as many reviews on their site as Costco or BJ's but they have the most options and packages. I also prefer that they include a description of exactly what comes in the bouquets. Shipping is also included. Wedding Wire has some great reviews of Sam's Club flowers if you search by location. I love their abundance of packages and options so I think they just may be my top pick! Please share your experiences below to help some other brides to be!